THE BLACK MANAGEMENT FORUM CONGRATULATES THE APPOINTMENTS OF SAKS NTOMBELA AND VUYANI JARANA
Details

Created: 10 August 2017
Johannesburg, South Africa; 10 August 2017


The Black Management Forum (the BMF) which is the foremost organisation in the development of managerial leadership and advancement for socio-economic transformation in South Africa is elated with the appointments of Saks Ntombela as the Hollard Insurance Group (Hollard) Chief Executive Officer (CEO) and Vuyani Jarana as the new Chief Executive Officer (CEO) of South African Airways (SAA).


"We would like to applaud the progressive and exemplary appointments made by Hollard and SAA. It is gratifying to us to see that there are still companies who regard transformation as a business imperative and continue to make concerted and deliberate efforts in ensuring that the transformation gains they have achieved as a company are not reversed," says BMF President, Mncane Mthunzi.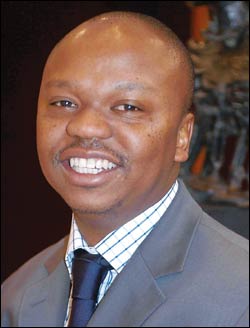 The appointments of Ntombela and Jarana go a long way in dispelling the lack of black skilled professionals myth that Corporate South Africa continues to use as an excuse for not appointing black executives in these critical positions. "Hollard has demonstrated their seriousness about succession planning and respect for black talent and leadership. Ntombela's appointment inspires us as black professionals that we have a future in these companies and that our talents can achieve greater heights," Mthunzi added.
"Jarana's appointment further dispels the phenomena that we have witnessed where black CEOs are replaced by white CEOs in companies led by our own black Chairpersons. Jarana's appointment is motivating to us as SAA has not relied on cadre deployment but has appointed a competent and professional executive to lead and turn around the parastatal," Mthunzi continued.
The Black Management Forum extends its well-wishes to Mr Ntombela and Mr Jarana and pledges its unwavering support to them and their businesses. Mr Ntombela will assume the role on 1 October 2017.
Read more: THE BLACK MANAGEMENT FORUM CONGRATULATES THE APPOINTMENTS OF SAKS NTOMBELA AND VUYANI JARANA
THE BLACK MANAGEMENT FORUM TACKLES ABSA ON THE SUDDEN RESIGNATION OF PHAKAMANI HADEBE AND FOR THE LACK OF TRANSFORMATION IN THE COMPANY
Details

Created: 26 May 2017
Johannesburg, South Africa – 26 May 2017
The Black Management Forum (the BMF) which is at the forefront of transformation within Corporate South Africa met with ABSA Group CEO, Ms. Maria Ramos and some her executives on Thursday, 25 May 2017. The meeting follows the walkout of black professionals at ABSA Capital's staff meeting after Phakamani Hadebe was overlooked for a promotion to head the CIB business. The BMF sought to understand the circumstances surrounding Hadebe's resignation and to discuss the broader lack of transformation at ABSA. As the BMF, we have been very intentional in our focus on the composition of executive teams and company boards with regards to gender and race as we believe that gate-keeping is sponsored from the very top, leading to transformation being undermined and ultimately reversed as is the case at ABSA currently.
At the meeting, the BMF highlighted its grave concerns with regards to:
Dismal Board and EXCO representation of Black Executives, and the general lack of transformation in senior teams managing key ABSA business units.
The concentration of business power in the hands of a single executive, Mr. David Hodnestt's who, in addition to his 'double-hat' roles as Deputy Group CE and CEO of SA Business Operations, is now - even if temporal - a Head of CIB and a Head of Retail and Business Banking. We asked if ABSA had no other executives to fill these roles and whether SARB is comfortable with Mr. Hodnestt's many roles that clearly pose salient risks.
The growing trend in Corporate South Africa's apparent preference of foreign nationals over South African nationals and black South African nationals in particular, even on businesses that derive a large part of their earnings in South Africa.

Read more: THE BLACK MANAGEMENT FORUM TACKLES ABSA ON THE SUDDEN RESIGNATION OF PHAKAMANI HADEBE AND FOR THE...